Bonding with Your Dog—Are You Doing it Properly? Bonding in animal behavior is a biological process in which individuals of the same or different species develop a connection. The function of bonding is to facilitate co-operation.
Parents and offspring develop powerful bonds so that the former take care of the latter and the latter accept the teachings of the former. This serves both parties best. Because of filial bonding, offspring and parents or foster parents develop an attachment. This attachment ceases to be important once the juvenile reaches adulthood, but may have long-term effects upon subsequent social behavior.
Among domestic dogs, for example, there is a sensitive period from the third to the tenth week of age, during which normal contacts develop. If a puppy grows up in isolation beyond about fourteen weeks of age, it will not develop normal relationships.
Males and females of social species develop strong bonds during courtship, motivating them to care for their progeny, so they increase their chances of the survival of 50% of their genes.
Social animals develop bonds by living together and having to fend for their survival day after day. Grooming, playing, mutual feeding, all have a relevant role in bonding. Intense experiences do too. Between adults, surviving moments of danger together seems to be strongly bonding.
Bonding behavior such as grooming and feeding seems to release neurotransmitters (e.g., oxytocin), which lowers innate defensiveness, increasing the chances of bonding. We often mention bonding together with imprinting. Even though imprinting is bonding, not all bonding is imprinting.
Imprinting describes any phase-sensitive learning (learning occurring at a particular age or a specific life stage) that is rapid and (apparently) independent of the consequences of behavior. Some animals appear pre-programmed to learn about certain aspects of the environment during particular sensitive phases of their development. The learning is pre-programmed in the sense that it will occur with no apparent reinforcement or punishment.
Our dogs in our domestic environments develop bonds in various ways. Grooming, resting with each other, barking together, playing and chasing intruders are strong bonding behaviors. Their bonding behavior is by no means restricted to individuals of their own species. They bond with the family cat as well and with us, humans.
Bonding is a natural process that will inevitably happen when individuals share responsibilities. Looking into one another's eyes is only bonding for a while, but surviving together may create a bond for life—and this applies to all social animals, dogs and humans included.
We develop stronger bonds with our dogs by doing things together rather than by just sitting and petting them. These days, we are so afraid of anything remotely connected with stress that we forget the strongest bonds ever originate under times of intense experiences. A little stress doesn't harm anyone, quite the contrary. I see it every time I train canine scent detection. The easier it is, the quickest one will forget it. A tough nut to crack, on the other hand, is an everlasting memory binding the parties to one another.
Featured image: Bonding develops stronger and more readily in stressful situations. SAR handlers and their dogs have probably some of the strongest bonds we witness between the two species. Photo: Désirée Mallè, Alpine Rescue Team, and her dog.
Featured Course of the Week
Ethology and Behaviorism Ethology and Behaviorism explains and teaches you how to create reliable relationships with any animal. It is an innovative, yet simple and efficient approach created by ethologist Roger Abrantes.
Featured Price: € 168.00 € 98.00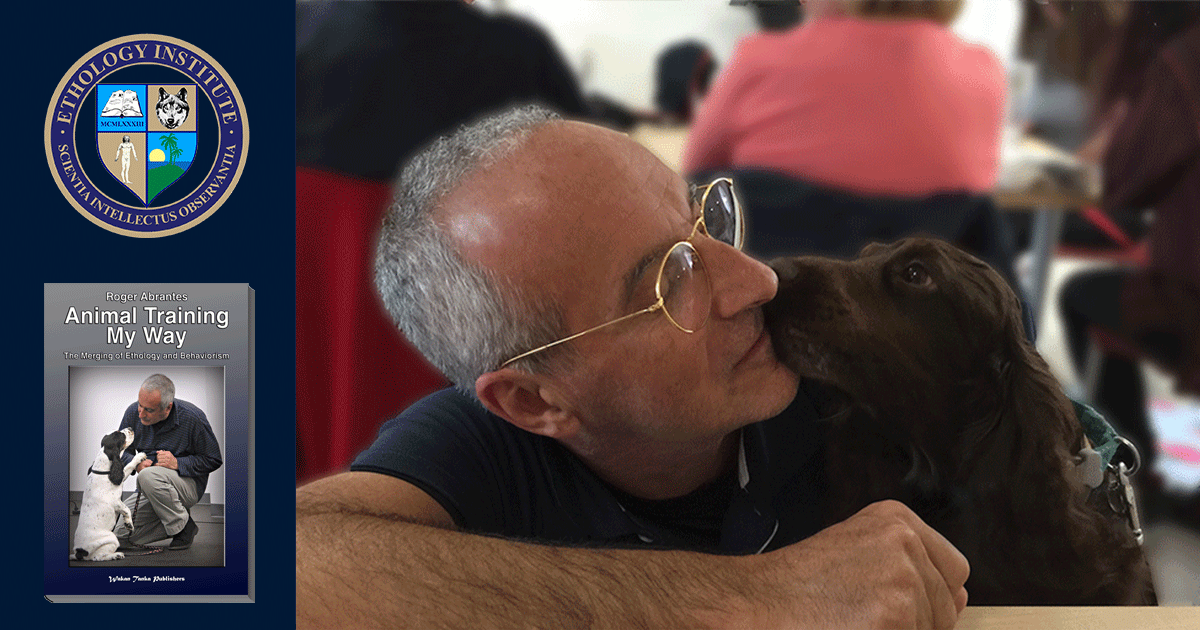 Learn more in our course Ethology and Behaviorism. Based on Roger Abrantes' book "Animal Training My Way—The Merging of Ethology and Behaviorism," this online course explains and teaches you how to create a stable and balanced relationship with any animal. It analyses the way we interact with our animals, combines the best of ethology and behaviorism and comes up with an innovative, yet simple and efficient approach to animal training. A state-of-the-art online course in four lessons including videos, a beautiful flip-pages book, and quizzes.