Ethology Institute offers you high-quality courses at amazingly low fees (we invite you to check the internet for comparable programs before you enroll in any of our courses). Our low fees are only possible because we have minimized the administration of our study programs, have implemented a simple, yet efficient online coursework structure and last, but not least, because of the many work hours donated by our tutors, admin team, and webmaster.
This is what you get:
State-of-the-art online portal.
Courses updated to the highest standards.
Automatic grading of quizzes.
Live online classes and meetings.
A certificate for each course you complete.
Course forums where you can pose questions and interact with your peers.
Internal messaging where you can communicate with your tutors and peers.
Redeem points: We reward our good students. You earn points for each course and program you complete.When you graduate as a CAAE, if you have saved all your redeem points, we pay you €527 (almost USD 600) – an excellent way to start your career. Yes, we pay you to study!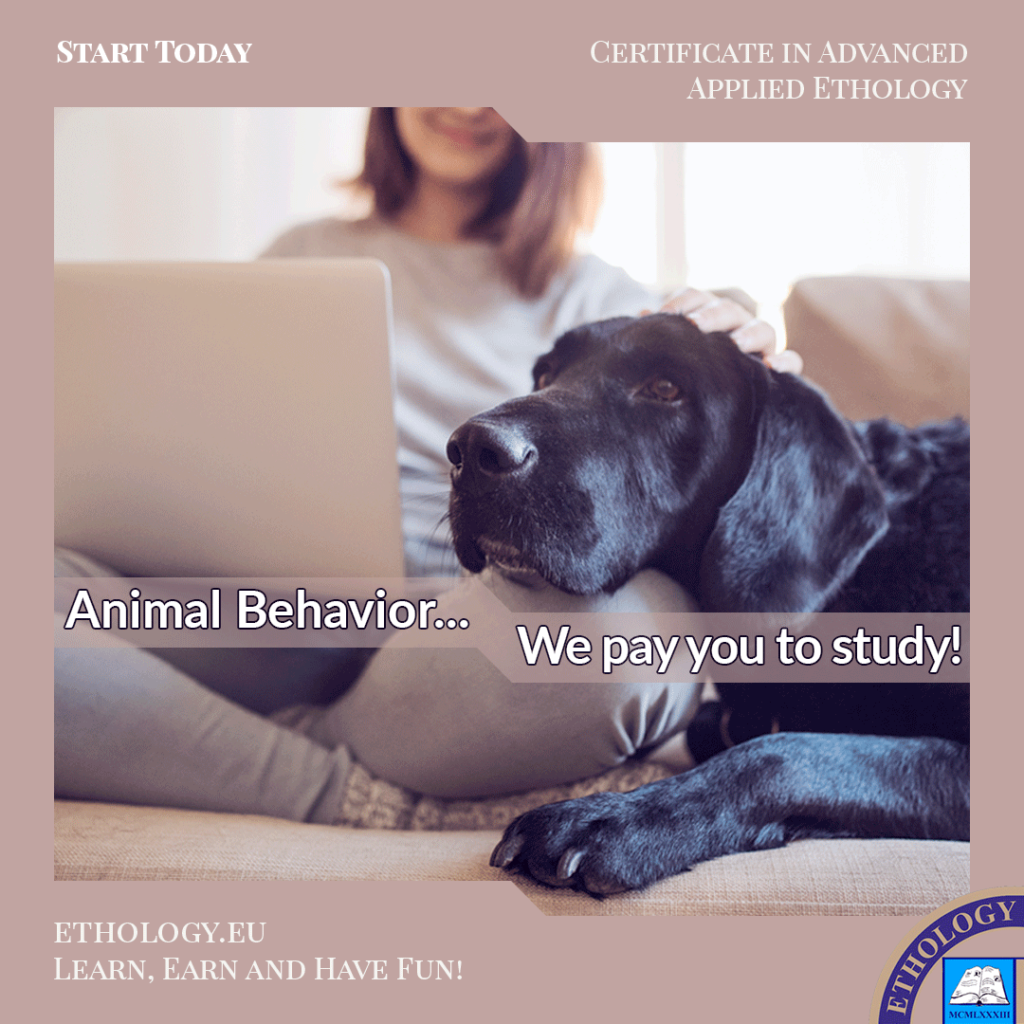 To earn a diploma, you must: 
have completed all courses for a particular program (all courses are online),
have trained and logged the required number of animals on your free, online logbook,
have passed a Proficiency Verification where you demonstrate your practical competence in handling an animal. You can do it by video.
have earned the required number of study credits.
How to do it:
Choose the certification program of your choice.
Each program includes all courses from any lower level program, e.g. CACE includes all CPDT courses plus the courses needed to earn the CACE diploma.
To upgrade from one program to the next, you pay the difference in fees plus 1%.
You earn a certificate for every course you complete. Once you have taken all courses pertaining to one particular program, and you have met all other requirements, you earn the diploma for that program.
When you enroll in a certification program, you get immediate access to all its courses and tests as well as access to attend all live online classes and meetings.
You can choose to pay a program fee in monthly installments (from €126, USD144).
Choose a program below to read more.
Certified Professional Dog Trainer (CPDT)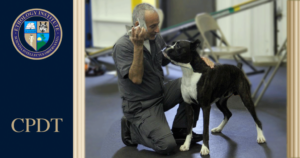 Our updated diploma 'Certified Professional Dog Trainer' is probably the best and cheapest program of its kind you can find. 12 online courses and one video proficiency verification. Learn about evolution, ethology, behaviorism, animal welfare, EFR for animals, anatomy, physiology, canine behavior, puppies, dogs and children, dogs home alone, canine problem behavior, and how to teach your students. Tutor assisted course forums and one-on-one tutor support for the practical work. Earn redeem points for completing courses. Try it today.
Certified Professional Dog Trainer €1,419 (or 12 installments of €126)
Certified in Applied Canine Ethology (CACE)
Certified in Advanced Applied Ethology (CAAE)
Always fascinated by animals, I started at Ethology Institute while still in High School. When I look back, it's amazing how much I've learned. Today, I run etologi.dk, my own animal training school, and I am a part-time tutor at the Institute.
Animal Trainer, Behavior Consultant, BSc. ABT.
Copenhagen, Denmark
I wanted scientific knowledge, not popular beliefs. The CAAE was a test to my resolve. I never regret I took it. I got what I wanted, and it felt good earning my diploma. I am, now, an Approved Regional Education Provider.
CAAE, Behavior Consultant, EI Tutor.
Lisbon, Portugal
I enrolled for CPDT and upgraded to CAAE. The courses gave me a wealth of knowledge and challenging proficiency verifications. I'm glad I found the Institute. I'm a much better trainer, today, and my clients can see it.
Trainer (Dogs, Horses, Guinea Pigs), CAAE.
St. Louis, MI, USA