By Jennifer Cattet Ph.D. To read this article, please click here.
A recent study confirms that in dogs, body language indicating a relaxed, interested and content state of mind during training correlated with better training results.
This article is selected and posted by our Tutor Team. Jennifer Cattet, the author, is not a tutor at Ethology Institute.
Jennifer Cattet, Ph.D., has been training dogs professionally since 1984. Her career as a dog trainer started with traditional training techniques, which were the only methods available at the time. Frustrated and concerned with the effects such methods had on some of the dogs and on their relationship with their owners, she went back to college and studied Psychology and Ethology (animal behavior) at the University of Geneva, Switzerland (she spent most of her early years in France). After her bachelor's degree, she worked as the Assistant Professor in the Ethology Department and completed her studies with a doctorate on spatial navigation in dogs.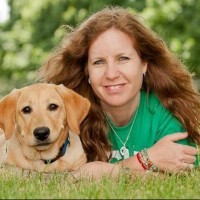 Featured Course of the Week
Ethology and Behaviorism Ethology and Behaviorism explains and teaches you how to create reliable relationships with any animal. It is an innovative, yet simple and efficient approach created by ethologist Roger Abrantes.
Featured Price: € 168.00 € 98.00