Watch the Keynote Presentation by Roger Abrantes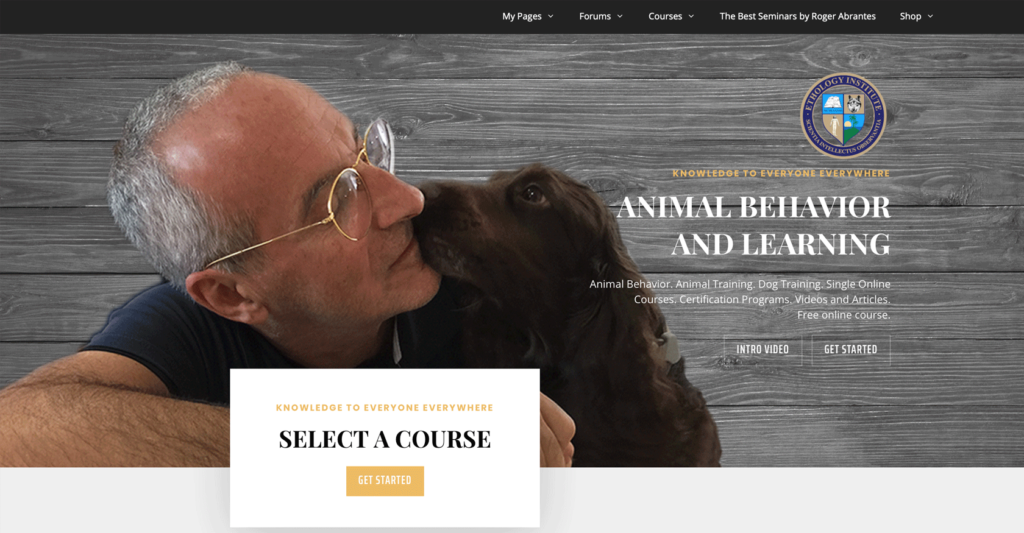 Welcome to our state-of-the-art Animal Behavior and Learning Portal!
We are very excited to present to you our brand-new 2019/20 site. We have great news for you. It is our most significant upgrade to date: the "2019 Knowledge to Everyone Everywhere Learning Portal." We will continue to develop it throughout 2020.
The first you'll notice is the new layout. We have redesigned our site from scratch. It's beautiful and simple with intuitive navigation.
Students access all their key information, as profile, curriculum, courses, and certificates, with a few clicks. You view your lesson and course progress instantly, as you complete them, one by one. You know where you are and what to do next, at all times.
All courses are new, some redesigned substantially, and others never published before, like "Ethology and Behaviorism," "All About Puppies," and "Agonistic Behavior." They are state-of-the-art online courses!
Give it a try, and you'll be amazed.
We created course forums where students meet tutors, pose questions, get answers, debate topics. More than that, our forums allow you to message your tutors and fellow students privately and share experiences.
Forget emails and Facebook groups, our forums are the place to be—you preserve your privacy, and you get in touch with the people who really matter. In our forums, you meet your true peers sharing your passion for the behavioral sciences—no old-wife tales, no gossip, no aggravation.
We have introduced 'redeem points' rewarding your completing courses. You're a good student—you earn points to buy courses or to give to a friend.
When you graduate as a CAAE, if you have saved all your redeem points, we even pay you EUR 527 (almost 600 USD) – an excellent way to start your career!
If you are a new student, just register and go ahead. Start learning and enjoying your studies through our brand-new state-of-the-art learning portal.
If you are a pre-2019 registered student, click the login button and you're in, as earlier—same login and password. Your records are all safe on the pre-2019 site. You'll continue to have access to your certificates, in-progress and completed courses and you can complete any program that you have started, before November 1, 2018, precisely as earlier. To do that, click this link "PRE-2019 STUDENTS" or the link in the bottom menu of the front page.
Development Implies Inevitable Changes
Development implies inevitable changes in routines, but we've worked hard to minimize any inconvenience to you.
All courses are new (although some keep the same name). If you decide you want to take the new improved courses, you'll have to buy them, even if you completed a similar course earlier. However, we'd like to repay your loyalty and genuine enthusiasm for learning by giving you a 75% discount on any course equivalent to the one you bought previously. For example, you want the new "The 20 Principles All Animal Trainers Must Know" at EUR 148. You apply coupon code EI2019 (valid until December 31, 2018) and pay only EUR 37. Complete the course, and you earn redeeming points—an additional discount.
If you have taken a Proficiency Verification, we will transfer it to the new database.
If you registered for a CPDT, CACE or CAAE program and paid it fully, you can also use the same coupon code to get all the new courses at the extraordinary fee.
If you are a CPDT or CACE student, and you are on the installments option, you can continue your studies as earlier until you complete your program. Alternatively, you can request to transfer to the new ones.
CAAE Premium students are transferred and receive the upgrades free of charge. You'll have to retake all courses because of the substantial improvements with new lessons, videos, etc., and there is no way to define an equivalence. Your huge benefit is that you'll have your knowledge updated, at no extra costs.
Knowledge to Everyone... Everywhere
With the 2019 upgrade, we have succeeded in carrying our virtual "Knowledge to Everyone Everywhere Learning Portal" far broader than earlier, yet much closer to you than ever before. You can almost touch it, now. In the 2020 developped version, we kept the curriculum unchanged but implemented an improved interface and new functionalities.
Enjoy your studies!
Your Journey Into the Discovery of Animal Behavior and Training