EFR, Emergency First Response (or first aid), is the immediate care given to an animal that has been injured or is suddenly taken ill. The course covers the most important principles of EFR and taking it can be a lifesaver, should you one day need to help an injured animal.
Top 10 Common Dog Health Problems (and Solutions). Pet CPR: A Step-by-Step Guide for Dogs. How to take equine vital signs. What to do if your horse is colicing.
How to Tell if Your Cat is Healthy.
Beginner. This is a course accessible to everyone and absolutely indispensable if you work with animals or you are a pet owner. Take this course now!
"EFR for Animals"
by M. J. Cunha, DVM.
Book contents
What is EFR—Emergency First Response?
The ABC of EFR.
Common injuries.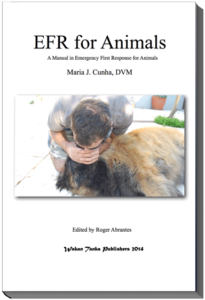 Online Studying and Tutoring
Watch the movie(s) and read the book(s). Join the course forum where you can read our tutors' answers to questions previously posed by your colleagues. If you have a new question, do not hesitate in posting it.
The course forum is solely for academic questions. For administrative matters or difficulties accessing the functionality of the site, please submit a ticket.
Once you're ready for it, take the quizzes. You may take a quiz as many times as you like. We recommend you re-take quizzes once a year as a self-imposed quality control.