Canine Home Alone deals with the canine problem no. 1—the dog cannot be left home alone without showing clear signs of distress behavior.
This course is a DIY program for dog owners to cure or prevent serious problems. If you are a dog trainer, teach your clients this proven, straightforward and efficient method.
Lesson one shows a case for you to analyze and poses you a few questions. Lesson two gives you the textbook that you have to read carefully.
Beginner to moderate. This is one of the most important courses in canine problem behavior. It deals with crucial issues, which result in dogs being re-homed or euthanized all too often.
"Dogs Home Alone"
by Roger Abrantes, Ph.D. in Evolutionary Biology and Ethology.
This book is a best-seller. The present edition is a much enlarged and revised version of the original book from 1997.
Book contents
Chapter One — The causes of canine home alone problems.
Chapter Two — Don't do this! Old wives' tales don't work.
Chapter Three — Treating the causes and not the symptoms.
Chapter Four — The direct treatment of CHAP.
Chapter 5 — The daily routine.
PS — Psychopharmaca.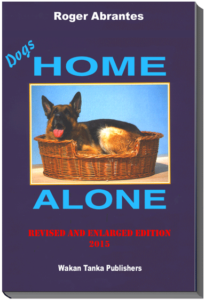 Online Studying and Tutoring
Watch the movie(s) and read the book(s). Join the course forum where you can read our tutors' answers to questions previously posed by your colleagues. If you have a new question, do not hesitate in posting it.
The course forum is solely for academic questions. For administrative matters or difficulties accessing the functionality of the site, please submit a ticket.
Once you're ready for it, take the quizzes. You may take a quiz as many times as you like. We recommend you re-take quizzes once a year as a self-imposed quality control.
Course Materials
Included in the course