Canine Behavior studies dog behavior in the natural and human environment, reviewing the behavior of the domestic dog, feral dogs, and the related species, wolves, dingos, African wild dogs, and jackals.
This course relies on facts and knowledge acquired through scientific studies. It will dispel many misconceptions and unfounded, common sayings. It is not a dog training course—it is a dog behavior course. Since training implies modifying an animal's behavior, it is essential to first understand its natural behavior before beginning to change it. Therefore, we recommend you take this course before any other concerned with behavior modification. 
Lesson 1: The Origin and Evolution of the Dog," "Surviving Strategies," and "Wolf-Dog Comparative Study".
Lesson 2: "Social Behavior and Cooperation," Parental Behavior," "Play Behavior," "Becoming Social," "The Function of the Pack," and "Pacifying Behavior."

Lesson 3: 

"Competition" "Agonistic Behavior," and "Dominant-Submissive Behavioral Strategies."
Lesson 4: "Dog Language."
Beginner-Intermediate. This is an important course for all dog trainers. We have to understand the normal behavior of the dog before we can expect to be able to implement successfully any behavior modification technique. Dog training is full of myths and old wives' tales bearing little or no resemblance to the reality that contributed to the evolution of canine behavior. This course will clarify it for you.
The lessons in this course give you all the text you need to complete the quizzes, including the final one, and earn your certificate. The course textbook is supplementary. It gives you more details about some behaviors we do not cover in the course. Since the book appeared in 1997, the author has implemented many revisions and updates to the text. Therefore, whenever there is a discrepancy, go for the updated text in the regularly updated lessons.
"Dog Language—An Encyclopedia of Canine Behavior"
by Roger Abrantes, Ph.D. in Evolutionary Biology and Ethology.
Book contents
A review of dog language from A to Z.
The evolution of canine behavior.
Dog language.
Facial expressions.
Bodily postures.
Normal canine behavior.
Problem behavior.
Social behavior.
Agonistic behavior
Human–dog relationship.
…and much more.
The book is not included in the course. You can purchase it by clicking one of the links below.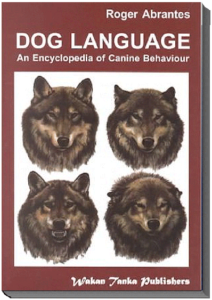 Although not mandatory, we recommend that you supplement your readings with:
Online Studying and Tutoring
Watch the movie(s) and read the book(s). Join the course forum where you can read our tutors' answers to questions previously posed by your colleagues. If you have a new question, do not hesitate in posting it.
The course forum is solely for academic questions. For administrative matters or difficulties accessing the functionality of the site, please submit a ticket.
Once you're ready for it, take the quizzes. You may take a quiz as many times as you like. We recommend you re-take quizzes once a year as a self-imposed quality control.