SMAF is a tool to help us in applying learning theory to practical behavior modification.  SMAF is a language to describe learning with all its components. Its objective is to enable us to plan our action with the highest possible degree of precision and to analyze the expected and observed results. Some parts of this course are just above beginner level, supplementing animal learning theory—others are for the advanced student of behavioral sciences. The SMAF part in itself will require more effort from you. You should, preferably, have taken Animal Learning before you take SMAF.
In the first two lessons, we give you an introduction to SMAF. In the second lesson, you'll watch movies showing all the necessary steps to teach a dog the skills "Sit" and "Down" with the highest possible precision. Professor Abrantes shows and explains how to describe all the learning tools we need, one at the time. In the third lesson, you'll read the SMAF manual with detailed descriptions and examples.
Join the course forum. We have moved the SMAF Team group from Facebook to the forum in our website. It is now the place to meet your peers interested in SMAF, exchanging ideas and POAs (Plans of Action).
Advanced. This course is for the advanced student of behavioral sciences and for the animal trainer who wants to achieve maximum precision.
"Mission SMAF—Bringing Scientific Precision Into Animal Training"
by Roger Abrantes, Ph.D. in Evolutionary Biology and Ethology.
SMAF is a revolutionary approach to describe learning processes with the same high precision you write musical notation or a computer program. We dare say it is much ahead of its time. This book, which we call, "The SMAF Manual," gives you all the rules to enable you to go ahead right away writing your own training plans of action.
Book contents
Foreword.
Chapter 1 Introduction.
Chapter 2 The Morphology and Syntax of SMAF.
Chapter 3 Examples of POA.
Chapter 4 Quick Guide to designing a POA in SMAF.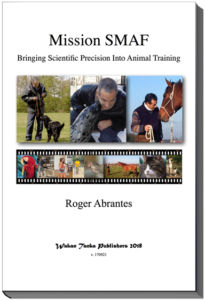 Online Studying and Tutoring
Watch the movie(s) and read the book(s). Join the course forum where you can read our tutors' answers to questions previously posed by your colleagues. If you have a new question, do not hesitate in posting it.
The course forum is solely for academic questions. For administrative matters or difficulties accessing the functionality of the site, please submit a ticket.
Once you're ready for it, take the quizzes. You may take a quiz as many times as you like. We recommend you re-take quizzes once a year as a self-imposed quality control.
Course Materials
Included in the course.