All About Puppies deals with everything you need to know about puppies, except illness and feeding, which we leave for the veterinarians. Choice of puppy, imprinting and socialization, creating good habits and preventing misbehavior, training and stimulating the puppy, house rules and much more. This is the course everyone should have before acquiring a dog, the course all dog trainers should recommend their clients to take when they show up to a class with a puppy.
This course is based on "All About Puppies—The Little Handbook" by Roger Abrantes, an ethologist with a vast experience in breeding and raising puppies. It is a much revised and updated edition of "Hundehvalpen," the original in Danish from 1997. It appears here for the first time in English, exclusively for this course.
"Hundehvalpen" (The Puppy) is a little no-nonsense book, full of good advice and DIY instructions. It was an immediate hit when it was launched in 1997 and has helped thousands of dog owners to raise happy puppies. The book was the basis for the many puppy courses we held at the Institute as well as "Puppy Parties" organized by many instructors and vets in Denmark.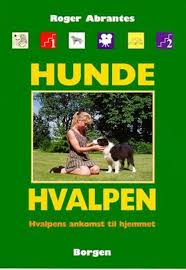 Beginner, since everyone can take it. However, it contains so much information that it is recommendable for more advanced trainers, vets, and vet nurses.
"All About Puppies—The Little Handbook"
by Roger Abrantes, Ph.D. in Evolutionary Biology and Ethology.
For this course, you'll get the text of the book especially edited as seven lessons, each with a quiz.
Course content and structure

* indicates practical skill with DIY detailed instructions.

Lesson One:

A dog is a lifestyle.

Are you prepared to have a dog?

Your responsibilities.

Choice of Dog.

Should I have a puppy or an adult dog?

Should I get a dog from a shelter?

Should I get a dog with a pedigree?

How big should the dog be?

What dog breed should I pick?

Should it be a male or a female?

The Right Puppy.

Mix or purebred?

Kennels and breeders.

Rule of thumb for choosing a puppy.

Lesson Two:

Sensitive periods.

Imprinting.

Socialization.

Play behavior.

Function.

Types of play behavior.

How you can play with your puppy.

Stimulating plan for the puppy.

Communicating.

Nose work.

Problem solving.

Lesson Three:

How puppies learn and FAQ.

* Bongo.

* Bongo-Come-Free.

* Pendulum.

* Bongo-Sit-Free.

Lesson Four:

Yes and No—The Magic Words.

Yes and No.

* Puppy-yes.

* Puppy-no.

Nose Work for Puppies.

Creating a bond with the puppy.

* Find-food.

Problem-solving.

* Overturned cup.

* Tennis ball.

Lesson Five:

Consistency: good and bad behavior.

The first Night. * The dog bed.

Home Alone.

House Rules.

House rules.

Car driving.

Children and toys.

Safety.

Safety indoors.

Safety outdoors.

Lesson Six:

Walking the Puppy.

The collar/lead.

* Walking the puppy.

* The belly-button routine.

* Heel.

Nose Work: Intermediate level.

* Find person.

* Find target scent.

Lesson Seven:

Dog and People in the 21st century.

Epilogue.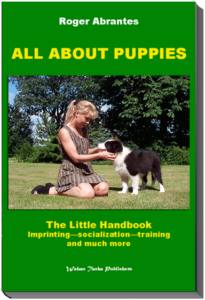 Although not mandatory, we recommend that you supplement your readings with:
Abrantes, R. (1997) Dog Language – An Encyclopedia Of Canine Behavior. Wakan Tanka Publishers, Naperville.
Abrantes, R. (2016) Animal Training My Way—The Merging of Ethology and Behaviorism. Wakan Tanka Publishers.
Dehasse, J. (1994) Sensory, Emotional and Social Development of the Young Dog. The Bulletin for veterinary Clinical Ethology, vol.2, n°1-2, pp 6-29.
Fox, M.W. (1971) Integrative development of the brain and behavior in the dog. University of Chicago Press, Chicago.
McFarland, D. (1982) The Oxford Companion to Animal Behaviour. Oxford University Press, Oxford.
McFarland, D. (1998) Animal Behaviour. Benjamin Cummings. 3rd ed.
Scott J.P., Fuller J.L. (1965): Dog Behavior: The Genetic Basis. The University of Chicago Press, Chicago.
Online Studying and Tutoring
Watch the movie(s) and read the book(s). Join the course forum where you can read our tutors' answers to questions previously posed by your colleagues. If you have a new question, do not hesitate in posting it.
The course forum is solely for academic questions. For administrative matters or difficulties accessing the functionality of the site, please submit a ticket.
Once you're ready for it, take the quizzes. You may take a quiz as many times as you like. We recommend you re-take quizzes once a year as a self-imposed quality control.
Course Materials
Included in the course.